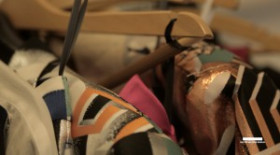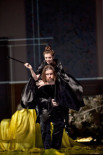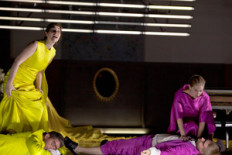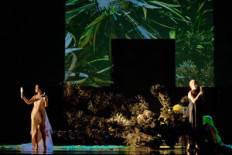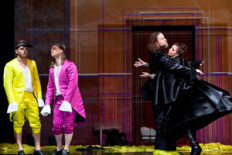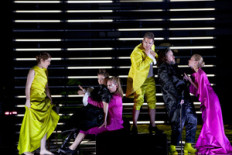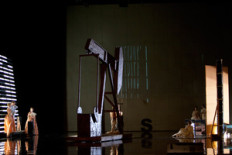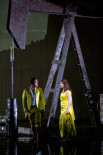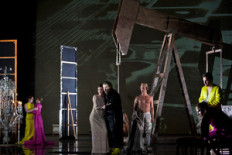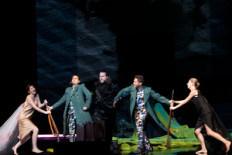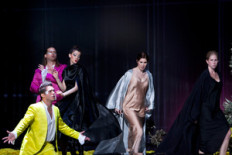 17.02.2018, 19:00
Deutsche Oper Berlin
for the last time this season
Così fan tutte
Dramma giocoso in two acts, KV 588
Libretto by Lorenzo da Ponte
World premiere: 26th January 1790 in Vienna
Premiere at the Deutsche Oper Berlin: 25th September 2016
3 hrs 30 mins / 1 interval
Dear Patrons, following the major water damage sustained on 24th December on the stage of the Deutsche Oper Berlin this performance will go ahead in modified form – with full costume and make-up but with altered set design and limited lighting. Patrons who would prefer not to attend an event of this kind will be reimbursed for the cost of their tickets. You will be notified as soon as we know when normal performances are to resume.
Please note the following procedure for obtaining a reimbursement: You can choose to switch your attendance to another date, receive a voucher or be reimbursed for the cost of the ticket. Please note that we can only process requests for reimbursements etc if they are made before the start of the performance for which tickets have been bought. For reimbursements, please fill out this
cb-tm.de/notiz/download.php?id...">Repayment Form
and return it along with your tickets to the Deutsche Oper Berlin – Kartenservice, Richard-Wagner-Straße 10, 10585 Berlin. You can also send the form and a scan of your tickets to
info@deutscheoperberlin.de.
Should you have any queries, please do not hesitate to contact our ticket and customer-service office +49 (0)30-343 84 343.
Pre-performance lecture (in German): 45 minutes prior to each performance
Kindly supported by Förderkreises der Deutschen Oper Berlin e. V.
"La scuola degli amanti" – "The school for lovers" – is the subsidiary title of the third and last collaboration between Mozart and Lorenzo da Ponte. And sure enough, the four characters who receive their crash course in relationships in COSI FAN TUTTE learn a great deal – about life, about love and, above all, about themselves. The four young people we meet at the start of the opera, all firm believers in the moral code and preordained career paths that have been drilled into them since childhood, come increasingly to question the basis of their beliefs in the course of the opera. By the end of the story Ferrando, Guglielmo, Fiordiligi and Dorabella have come to the realisation that they will have to live with uncertainty over both their own feelings and the feelings of their partner. Yet this very uncertainty is a prerequisite for being able to understand and love the other person.

For Robert Borgmann, too, this maturation process is the central theme of COSI FAN TUTTE. For the Leipzig native, who is one of the most interesting directors of straight theatre of his generation and is now presenting his first opera, Mozart's piece is very much a serious work exploring the growing-up process – a piece looking at the fears associated with a realisation of one's own physical and psychological changes, a piece, too, about the abysses which exist within all of us and which all four characters peer into for the first time in their lives.